Martin
Martin Hansson
Martin Hansson, comedian and magician with sharp tongue and nimble fingers who has enchanted audiences all over the world. His experience and speed gives him a highly energetic style, as a spectator there is only one thing to do: let yourself be swept away.
Exquisite humour
Martin's rough but tounge-in-cheek image and his astounding ability to hold an audience, will make any performer green with envy and any audience blue from lack of oxygen. If you haven't seen Martin earlier, you really have something to look forward to. His at the same time warm and sarcastic humour has brought down the house everywhere.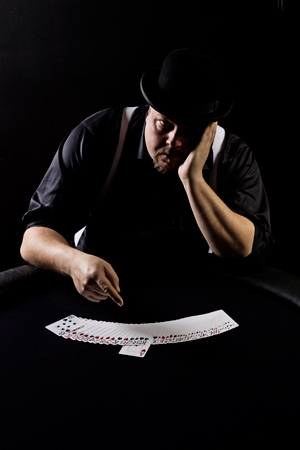 Did you know?
That Martin is a master of improvisation.
That he once magically managed to bend not only a spoon but a ladle in front of a surprised cruise ship staff.
That he had 63 sold out houses during a tour in Japan.
That he was once engaged to perform a magic show in a sauna in front of eighteen naked finnish ladies.
That he once, as a young man, travelled through Europe, all the waydown to Jordan, with a deck of playing cards as his only means of earning a living.

Watch movie!